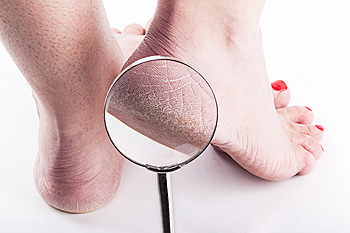 With the warm weather upon us, we are eagerly pulling out our sandals and flip-flops. While this is a welcome trend in some respects, a downside is that it exposes cracked heels, an unsightly, sometimes painful, and potentially unhealthy condition. Wearing footwear such as sandals that expose the heels can lead to dry, cracked heels due to their lack of support and exposure to the elements. When our heels strike the ground while walking or running, the skin around them must be supple and flexible to move and stretch. Dryness and calluses hinder this flexibility, causing the skin to crack and split. To combat this condition, shoes with heel cups can be worn for better support and cushioning. Socks can also help prevent skin friction against the shoe's material. Hydrating well and moisturizing the feet regularly is particularly effective. If underlying causes for cracked heels, such as diabetes, contribute to cracked heels, they must be addressed to prevent recurrence. If you suffer from this uncomfortable ailment, it is suggested that you make an appointment with a podiatrist for a proper examination and individualized treatment.
If the skin on your feet starts to crack, you may want to see a podiatrist to find treatment. If you have any concerns, contact Ramin Nadjafi, DPM from Advanced Podiatry Group. Our doctor can provide the care you need to keep you pain-free and on your feet.
Cracked Heels
It is important to moisturize your cracked heels in order to prevent pain, bleeding, and infection. The reason cracked heels form is because the skin on the foot is too dry to support the immense pressure placed on them. When the foot expands, the dry skin on the foot begins to split.
Ways to Help Heal Them
Invest in a good foot cream
Try Using Petroleum Jelly
Ease up on Soaps
Drink Plenty of Water
Ways to Prevent Cracked Heels
Moisturize After Showering
Skip a Shower
Keep Shower Water Lukewarm
Don't Scrub Your Feet
If you are unsure how to proceed in treating cracked heels, seek guidance from a podiatrist. Your doctor will help you with any questions or information you may need. 
If you have any questions, please feel free to contact our office located in Orlando, FL . We offer the newest diagnostic and treatment technologies for all your foot care needs.
Read more about Solutions for Cracked Heels