Our Doctor
Podiatrist Ramin Nadjafi, DPM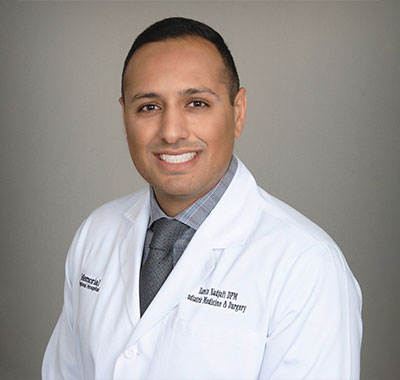 Ramin Nadjafi, DPM
Ramin Nadjafi, DPM is board-certified as a Diplomate with the American Board of Podiatric Medicine and has been in practice for 11 years.
Dr. Nadjafi graduated from the University of Florida with a Bachelor of Science degree. He then completed his Master's degree in Biomedical science from Barry University in Miami Shores, FL., where he subsequently also received his Doctorate in Podiatric Medicine in 2011. Dr. Nadjafi completed his postgraduate training with a 3-year surgical residency at Memorial Regional Hospital System in South Florida. At the conclusion of his residency, Dr. Nadjafi entered private practice in South Florida before moving back home to Orlando to open an Advanced Podiatry Group, achieving his goal of starting his own podiatry practice.
Along with being double board-certified as a Diplomate with the American Board of Podiatric Medicine and the American Board of Foot and Ankle Surgery, Dr. Nadjafi is also the current President of the Florida Podiatric Medical Association Central Florida Component. He is affiliated with several Orlando area hospitals including Orlando Health Orlando Regional Medical Center, Orlando Health Dr. P. Phillips Hospital, and AdventHealth Orlando.
Having grown up in Orlando, Dr. Nadjafi is very active in his community, where his father has been a physician for over 30 years. In his spare time, he enjoys playing football, baseball and basketball, traveling, cooking, being a hands-on dad to three young children and a devoted husband to his wife-who is also a physician.
Come Visit Out Foot Doctor in Orlando, FL!
We accept most insurance plans and welcome new patients!
Call today and get back on your feet! Orlando at (407) 423-9401.